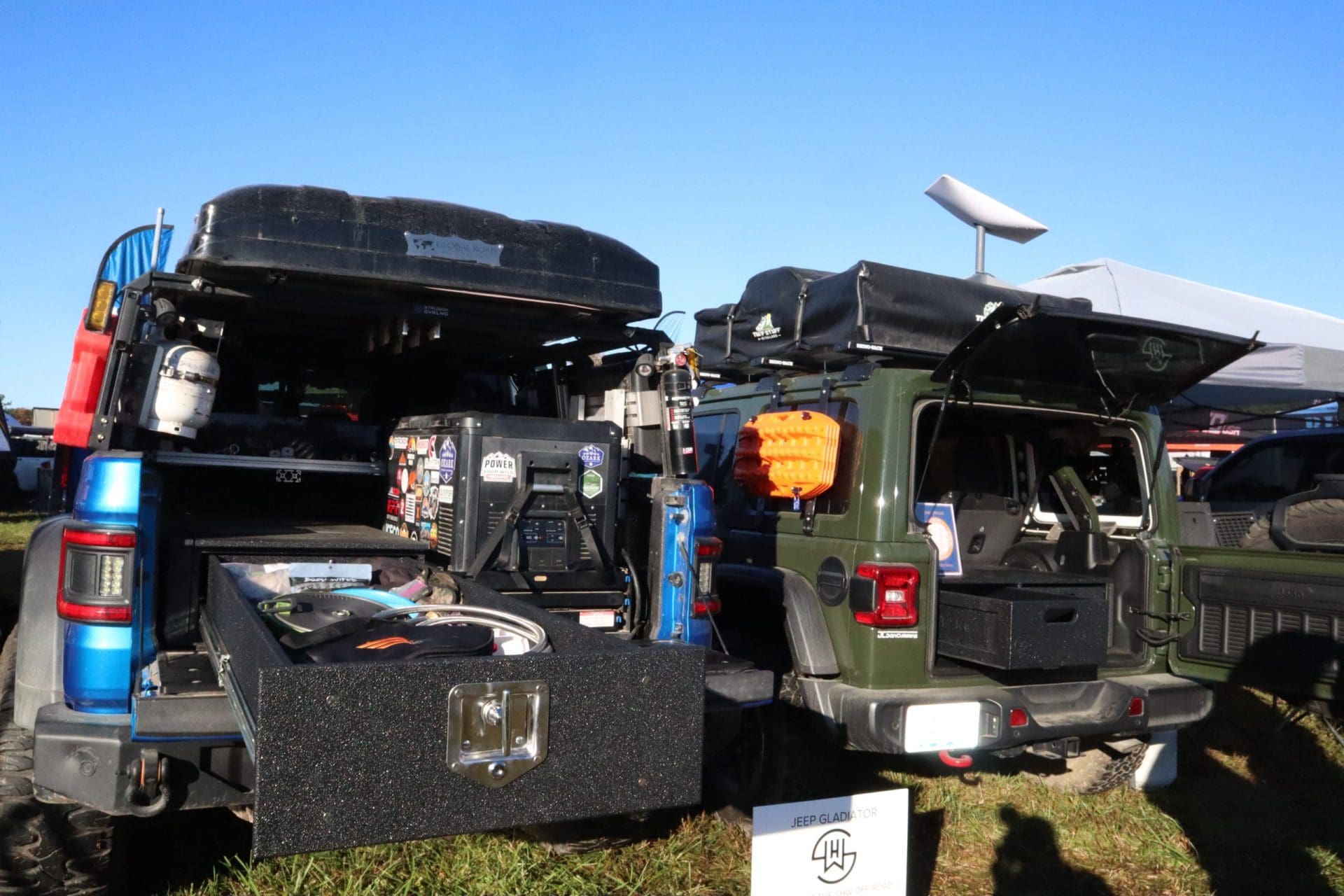 Roof top tents have quickly become a staple in the overloading community and beyond. There is nothing like a quickly deployed shelter that keeps you off the ground. Some of us here at SHW are avid RTT users and big proponents of them. However, RTT's do have some major downsides. Quality roof top tents are often very expensive ($2500+). Many roof top tents weigh 150+ pounds and put all the weight in the worst possible location on your vehicle, the roof. Roof top tents are also very narrow in their use cases, which is why many users only deploy them a few times a year. 
It is because of these shortcomings that you should consider a drawer system before a roof top tent. Often overlooked and pushed far down the priority list, drawer systems have the potential to have a much larger impact on the way you use your vehicle. Here are just a few reasons you should consider a drawer system before a roof top tent. 
You Will Use a Drawer System More, Much More
Roof top tents often only see the sun a few weekends out of the year. The rest of the time they either sit on top of your vehicle or take up precious space in the garage. And even on a camping trip the tent is only used at camp.  Drawer systems on the other hand have use cases far beyond camping a few times a year. 
Spouses: the real decision makers. All of SHW Employees' wives were once skeptics of drawer systems. Drawer Systems seemed to them a waste of space and a heavy burden in the vehicle. They quickly realized how handy a drawer system can be in everyday life, and so did we. Drawer systems that we bought for our epic adventures are constantly being used to organize groceries, lug golf clubs, and carry all sorts of other cargo while still housing our camping gear in the drawers below. Most of us use our drawer systems every day! And even when we are on a camping trip we constantly utilize the drawers to quickly access often needed items. We used to constantly unload and load the trunk trying to get to the stuff on the bottom. There is nothing like completing a month long trip without digging for gear once. 
Drawer Systems are More Friendly on your Gross Vehicle Weight
Roof top tents often weigh more than 150lbs and place that weight on the roof of the vehicle. It is true that most drawer systems are also excessively heavy, but at least that weight is lower on the vehicle in the cargo area. 
SHW drawer systems use the lightest 3/4" plywood in the world. A JLU Ultralite drawer system weighs just 40lbs, and an 80 Series Expedition drawer system tops out around 180lbs. A drawer system will have much less of an impact on the vehicle handling both on and off road making it much more appropriate to leave it in the vehicle year round. 
*Ultralite Series Full Drawer Removal
Drawer Systems are a Better Return on Your Investment
The cost of entry for a good roof top tent is $2500+. There are manufacturers out there offering sub $1000 roof top tents, but their cumbersome operation and compromises on material quickly degrade the user experience. Most quality drawer systems also cost $2000+, but an SHW OFFROAD Ultralite drawer system starts at just $899. 
Unlike budget roof top tents, an Ultralite Drawer Systems comes with very few compromises. They are lighter than ball bearing sliding drawer systems. They have more volume than any other drawers out there thanks to the space efficient UHMW sliding system. They also provide unprecedented drawer access thanks to the drawers functioning as bins when removed from the drawer chassis.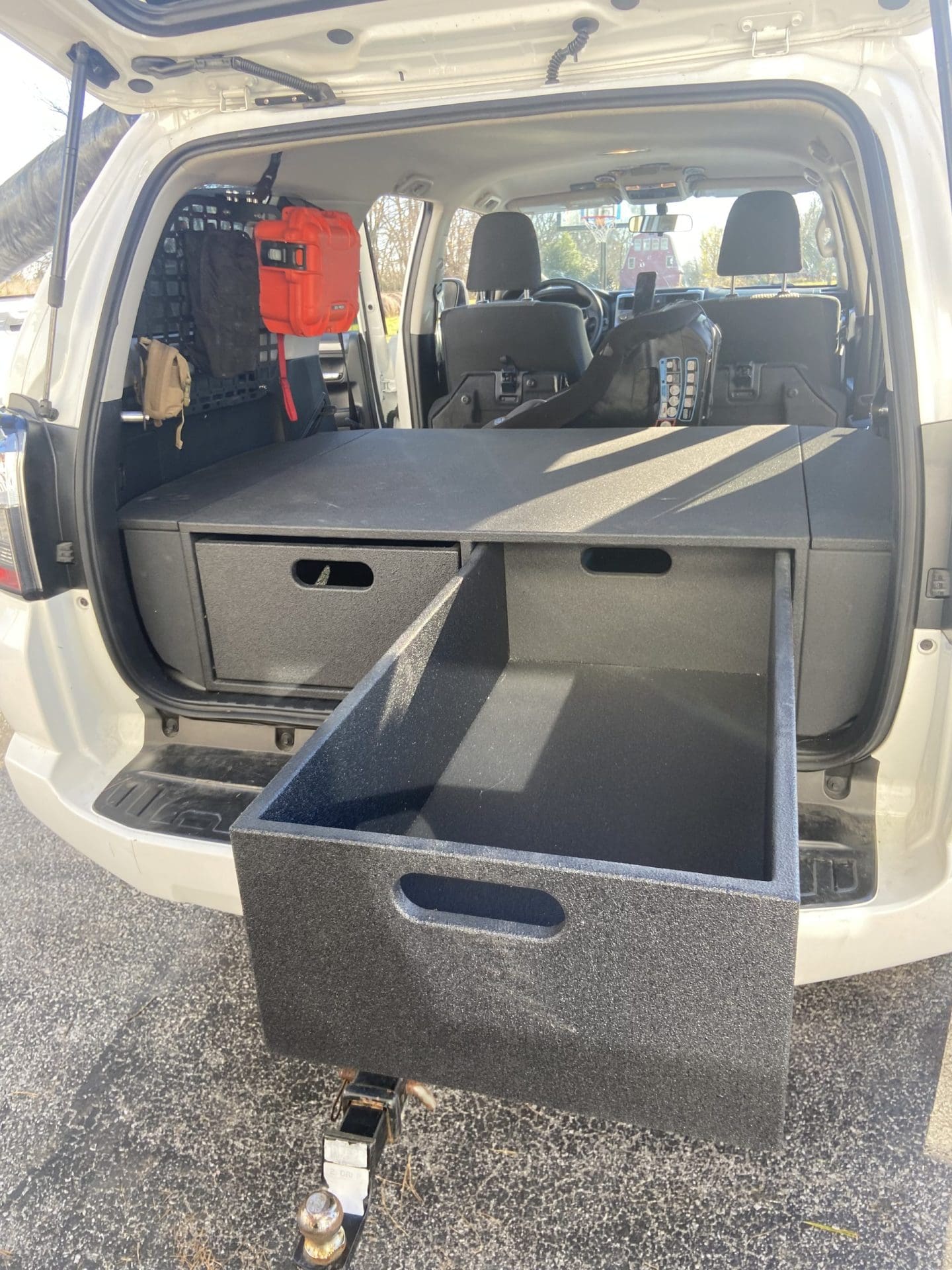 *5th Gen 4Runner Ultralite Drawer System
So, whether you are considering a new roof top tent or you already own one, examine what you will be using your vehicle for and consider if a drawer system will deliver more utility and value. We certainly believe this is the case for most vehicle owners.